Guided Visits
ENGLISH SPEAKING GUIDES AVALIABLE
BOOKINGS: EMAIL TO info@villaggiocrespi.it
Guided visits by reservation only
Discover with us the history, the people and the curiosities of the workers' Village of Crespi d'Adda. Our guides come from or live in the Village: they will let you discover the fascinating past of this unique place as well as the present of the Village where.. the time has stopped.
How to visit Crespi?
The Village of Crespi is still inhabited. There are no formal entrances or opening hours. The Village of Crespi can be visited either with a guide or on your own: in either case, please behave respectfully towards its inhabitants and monuments. We recommend that you book a guided visit, which is the most satisfying way to discover the complex reality of Crespi.
Why visit Crespi?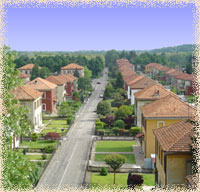 Everybody who is visiting the village of Crespi d'Adda soon realises this is a very unique place. You will notice the series of cottages lined up in order, the same low fences for every house, the carefully cultivated vegetable gardens, the long row of workshops and the very high chimneys, always visible while you are walking around the village. Besides, you are struck by the strange medieval castle, the huge pyramid monument in the cemetery...
The Crespi Village is a place where time has stopped: in fact, Crespi d'Adda has perfectly preserved many signs of its past. A careful visitor will notice how this place - together with its history, its houses, its factory and its river - can bring you back in time: to the times when the founders of the village - the Crespi family - succeeded to give birth to an ideal company town, where they combined the workers' needs with the entrepreneur's needs.
Crespi d'Adda is a genuine realisation of ideal city, strictly bound to the echoes of the utopian models of the nineteenth century, and an authentic testimony of the process of industrialisation in Italy, the process which, here and elsewhere, brought the man from the rural to the modern industrial epoch.
And the factory?
The factory, which ceased to operate in 2003, is closed for public. Today the building that used to be a cotton mill is not equipped as a museum, but it has kept its fascinating architecture, which you can admire from the main street.
Visiting on your own
If you wish to visit the Village of Crespi on your own, we suggest that you start from the Information Point, near the coach/car park, (follow the signs "Crespi Cultura"). Our office provides information about Crespi, as well as maps and illustrated guidebooks.
RECOMMENDATIONS TO ALL VISITORS:
Do not disturb the tranquillity of workers' houses (all inhabited);
Please pay special care while visiting the cemetery and the church (still in service);
Attention: the Crespi village is not an equipped museum: certain parts of the site cannot be visited