Visitas guiadas
ENGLISH SPEAKING GUIDES AVALIABLE
BOOKINGS: EMAIL TO info@villaggiocrespi.it
La visitas con guía privada deben reservarse con antelación
Descubrid con nosotros la historia, los protagonistas y las curiosidades del pueblo obrero de Crespi. Nuestras guías residentes o nativos del pueblo, les conducirán con pasión en el pasado de un lugar único y en el presente donde el tiempo se ha parado.
¿Cómo puede visitar Crespi?
El pueblo obrero de Crespi, es un pueblo habitado. No existe una entrada formal ni horarios de ingreso. El pueblo de Crespi se puede visitar y apreciar de manera autónoma o con una guía, pero siempre con la mayor atención. (ver consejos al lado) A todos aquellos que deseen visitar Crespi, les recomendamos que lo hagan con una guía, ya que representa la forma más cómoda y agradable para conocer la compleja y fascinante realidad del pueblo de Crespi.
«Why visit Crespi?»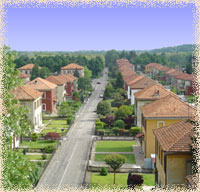 «Everybody who is visiting the village of Crespi d'Adda soon realises this is a very unique place. You will notice the series of cottages lined up in order, the same low fences for every house, the carefully cultivated vegetable gardens, the long row of workshops and the very high chimneys, always visible while you are walking around the village. Besides, you are struck by the strange medieval castle, the huge pyramid monument in the cemetery...»
«The Crespi Village is a place where time has stopped: in fact, Crespi d'Adda has perfectly preserved many signs of its past. A careful visitor will notice how this place - together with its history, its houses, its factory and its river - can bring you back in time: to the times when the founders of the village - the Crespi family - succeeded to give birth to an ideal company town, where they combined the workers' needs with the entrepreneur's needs.»
«Crespi d'Adda is a genuine realisation of ideal city, strictly bound to the echoes of the utopian models of the nineteenth century, and an authentic testimony of the process of industrialisation in Italy, the process which, here and elsewhere, brought the man from the rural to the modern industrial epoch.»
«And the factory?»
«The factory, which ceased to operate in 2003, is closed for public. Today the building that used to be a cotton mill is not equipped as a museum, but it has kept its fascinating architecture, which you can admire from the main street.»
Visitar de manera autónoma
Aquellos que deseen visitar el pueblo de Crespi, les proponemos que lo hagan partiendo de la oficina de información, que se encuentra en el aparcamiento-pinada. (Para llegar aquí es suficiente seguir las indicaciones para el "parcheggio Pullman", o las indicaciones "Crespi Cultura"). En nuestra sede pueden encontrar toda la información para efectuar una visita agradable, como mapas y guías ilustradas.
CONSEJOS PARA VISITAR CRESPI D'ADDA:
Respetar la tranquilidad de las casas obreras, estan todas habitadas.
Mantener el silencio y el respeto cuando se entra en la iglesia.
Máxima cautela en la zona del cementerio, (aún en uso).
«Attention: the Crespi village is not an equipped museum: certain parts of the site cannot be visited»